H ere es el diagrama del circuito de un cargador de baterías hacia adelante y hacia simple que puede ser utilizado para cargar todo tipo de baterías de 12V recargables incluidas las baterías de coche.
The circuit is nothing but a 12V DC power supply with an ammeter for monitoring the charging current.The two diodes forms a centre tapped full wave rectifier .The capacitor filters the rectifier output to produce a clean 12V out put.

El circuito no es más que una fuente de corriente continua de 12 V con un amperímetro para controlar la carga de dos formas current.The diodos de un centro de tapping rectificador de onda completa. Los filtros de condensador de la salida del rectificador para producir una salida de 12V limpia puesto.
Circuit diagram with Parts list. Diagrama del circuito con la lista de piezas.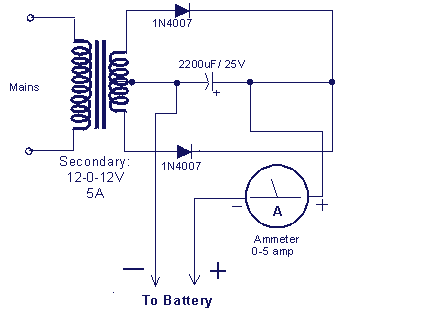 Notes. Notas.
At initial stages of charging the ammeter will read about 1 to 3 amperes.

En las etapas iniciales de la carga del amperímetro se lee de 1 a 3 amperios.

As the battery is slowly charged the current slowly decreases.

A medida que la batería está cargada poco a poco la corriente disminuye lentamente.

When the battery is fully charged the ammeter reading will be zero.

Cuando la batería está completamente cargada la lectura del amperímetro es nula.

Always be careful to connect the charger to the battery in correct polarity.

Siempre tenga cuidado al conectar el cargador a la batería con la polaridad correcta.

Positive to positive and negative to negative.

Positivo con positivo y negativo con negativo.